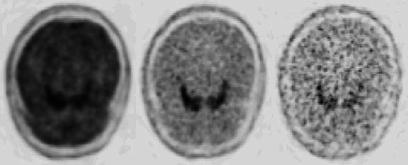 Raclopride list mode movie (2MB MPEG)
This is an estimate of the dynamic distribution of [11]-C Raclopride, a dopamine ligand. Note how initially the distribution is nearly uniform throughout the brain, while subsequently the tracer only collects in the striatum.
This movie represents 90 minutes of data; note the slow shifting of the head to the left and right indicating subject motion.
Relative to usual conventions the image is upsidedown, posterior at the top of the image, anterior at the bottom.